Captain Crunch and Let's Do Lunch were an alternative pop outfit with a DIY ethic located in Montreal in the late 1980's to early 1990's. Their unique brand of tuneful tunes and harmonious vocal harmonies made them stand out from the rest of the post-punk bands of the era. Here you will find information about the band, photos, and free high quality downloads of their complete studio works, including the entirety of the LP.
The band consisted of:
Pat Hineson: Guitar, Lead 'n Backin' Vocals
Celine Fleurquin: Bass, Backin' Vocals, Guitar and Lead Vocal on "Well Again"
George Agetees: Drums, Yips 'n Yelps
And sometimes:
Mike Burns: Guitar, Lead 'n Backin' Vocals
Lawrence Joseph: Guitar, Keyboards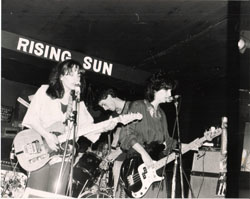 Site design ©2011 Bertrand Joseph-Paré (biterror@hotmail.com)
Pat Hineson: patriciahineson@yahoo.ca